Taylor INLINE SILENCERs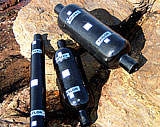 Offering superior noise reduction, Taylor Inline Silencers are used widely in the boating industry on commercial and pleasure engines.
Designed to be used above the water line, Taylor Inline Silencers are engineered to minimise back pressure.
Regulates water surge back towards your engine preventing costly damage
No more electrolysis concerns - the inline silencers are compatible with fresh or salt water and are non-conductive.
The Taylor Skip Silencer has been developed for boats where space is very limited, for example under the cockpit sole of a ski boat.
In addition to our standard range of inline silencers, Taylor Marine Exhaust can
manufacture to suit any specification you provide
.