Taylor WATER GAS SEPARATORS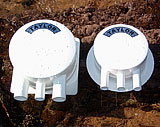 Taylor Water Gas Separators are designed to separate exhaust gas from cooling water and discharge the water quietly.
Eliminates water splashing by draining water silently just below the waterline.
Enjoy your quiet haven whilst operating your generator. No more night time exhaust splash!
Back pressure is dramatically decreased, allowing your engine to perform at optimum levels.
Taylor Marine Exhaust separators are suited to both generators and main engines and can be manufactured to meet your unique requirements.